I've seen several similar posts on facebook recently championing the efforts of high school students trying to fight misogyny in their school dress codes. If you haven't heard about it check this out. I've read the posts and I have to say I'm proud of the way these girls are handling this old sexist argument.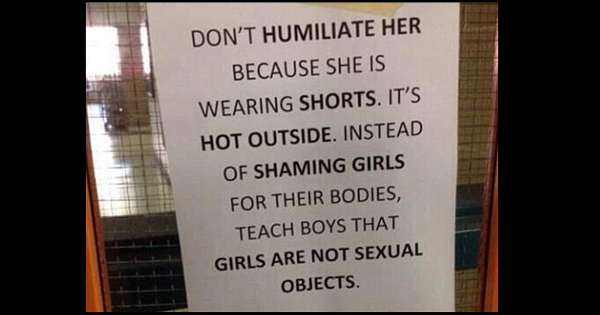 At the same time, however, I feel there is a necessary iteration of reality that needs to accompany this campaign. Here is my response, and my message, to girls and schools and boys and feminists and pretty much anyone else who is willing to take a step back and look at this situation with wisdom and balance. (note: if you're not willing to take a step back and consider a different point of view, please move along, I'm sure there are plenty of blogs out there that agree with you)
1) Absolutely, absolutely I agree that the idea of telling girls they have to dress a certain way because they are a "distraction" to boys is wrong. Boys will be boys, but that doesn't take away a girl's right to be a girl. I think these girls are on the right track and I will champion their efforts to stamp out sexism.
I think school administrators need to re-think the way they handle dress code violations. Telling a teenage girl she can't dress a certain way because boys will get distracted by how sexy she looks is the wrong way to approach this. Boys know girls are sexy. They have eyes. The way a girl dresses should never give boys the right to objectify them.
https://i.ytimg.com/vi/Jb1pJLDXR0k/maxresdefault.jpg
2) Realistically, no matter how much we educate, train, or otherwise attempt to infuse character into our boys, they are going to see the sexuality of the female form. It's in their DNA. Does this give them the right to act on those impulses? No! Does their chromosomal makeup somehow give them a free pass to objectify even the most scantily clad of women? No!
But there is some common sense to be had. When I see a cute puppy I immediately am possessed with the desire to pet it. Have I been taught not to touch someone else's dog without asking permission? Yes. If I reach down to pet a puppy without asking and it bites me, I am the one to blame. But I'm not just going to wake up one day and decide I hate puppies.
In the same way, boys find girls sexually attractive. They may have the character to realize that they should wait until they are married to one girl before acting on those sexual impulses. They may be taught by parents or school administrators that just because a girl is sexually appealing doesn't give them the right to act on their impulses.
3) What you wear in public defines you. We can try to change this mindset, but it's been around forever and is deeply ingrained in our human makeup. Hundreds of years ago society felt that it was wrong for a woman to uncover her legs. There are rumors that during certain historical eras a woman could be arrested for showing her ankle in public. Did that stamp out ankle baring? No. But anyone who saw a woman with bare ankles knew immediately that the woman was either a rebel, or a harlot (or both). It really didn't matter if the woman saw herself as a rebel or a harlot. Society chose to see her as such based on her reaction to the status quo.
https://s-media-cache-ak0.pinimg.com/736x/1e/87/
5d/1e875dc19e5e60a7b1f2130c9d19bb53.jpg
You may not like society's determination of your personality based on your clothing choices, but they are there whether you like them or not. You are free to fight against the current cultural stigma against certain clothing types, but you are not going to change everybody's mind. If you want to fight this battle, you need to realize that it truly is a battle you are choosing.
You can wear denim underwear and a mesh top with a neon bra under it and walk around saying you are fighting the objectification of women and championing your rights as a feminist to wear what you want. You have the freedom to do that. I'm not going to take away that freedom. But, when a misogynist approaches you and starts his feeble attempt to get lucky, you have to accept that your choice of attire sent him a culturally accepted message that you were open to his advances. You can be offended by his actions, and you can decide in that moment to re-educate him, but unless you have some level of relationship with him, he's going to blow off everything that comes out of your mouth.
To reiterate with absolute clarity: what a person wears does not give anyone else the right to violate their personal boundaries.